HOST YOUR CHILD'S NEXT BIRTHDAY PARTY AT
KNOCKERBALL & MORE!
The constant compliment we receive about children's birthday parties at Knockerball & More is that we've come up with something DIFFERENT! If you've exhausted yourself on bounce houses, trampolines, video games and all the other usual birthday parties, give us a try next!

All children's birthday parties at Knockerball & More offer PRIVACY and STRUCTURE.

PRIVACY meaning you will have your own reserved party area (home base) for the full duration of your party (not just 30 minutes at the end) and no other children or customers will be mixed in the activities - just your crew! Plenty of space for a few adults to socialize and watch too! Parents are welcome to participate as well, but we ask that they be included in the headcount if they will be joining in on the fun with the kids!

STRUCTURE meaning the party is organized and not a chaotic free-for-all! You will have 1-2 personal party hosts (Gratuity for party hosts is not included but always appreciated) who will take the kids through all the activities in groups as well as explain the rules, supervise for safety, keep the score/time and most importantly make sure everyone is having fun! They will also take care of serving the pizza and all set-up/clean-up so you can relax, take photos and actually enjoy your child's party - we always say that we sell fun and memories!

We offer an all-inclusive option which includes pizza, drinks and party supplies (plates, napkins, utensils, tablecloths) or you can choose to skip the pizza and just play longer (you're welcome to just do cake at the end too). Many choose to go to the food court or do pizza/cake at home for more playtime so the choice is yours! We can also order extra pizza if you expect parents to hang around and watch the fun!

*Our pizza comes from Lupo Pizza of West Long Branch. Additional cheese pies can be ordered for $16 each or any other items from their menu

You are also welcome to bring additional food/drinks (we prefer nothing in cups/cans - capped bottles or juiceboxes are preferred), decorations (please no confetti or glitter), balloons and if you prefer to use your own themed party supplies please feel free - just let us know!
Our All-Inclusive Baller! or Big Baller! Packages include the following:

-Private party area for the full party with seating for pizza/cake, serving/gift table and refrigerated cooler for drinks
-Pizza
-Ice Cold Bottled Water in your cooler (refilled as needed)
-Standard party supplies - plates, napkins, utensils, tablecloths
-BRING YOUR OWN CAKE! (If you bring cupcakes we can usually let the kids play a little extra time since there is no cake to cut. We have a freezer for ice cream cake also)
90 MINUTE BALLER! Party - $399 for the first 10 kids and $30 for each additional up to 16 Max (60 Minutes of activities followed by 30 minutes for pizza and cake)

2 HOUR BIG BALLER! Party - $649 for the first 14 kids and $35 for each additional up to 24 Max currently (90 Minutes of activities followed by 30 minutes for pizza and cake)
**2 Hour Party must be booked over the phone - please call 732-690-5670

Prices do not include NJ Sales Tax or gratutity for your party hosts
THREE FUN ACTIVITY PACKAGES TO CHOOSE FROM: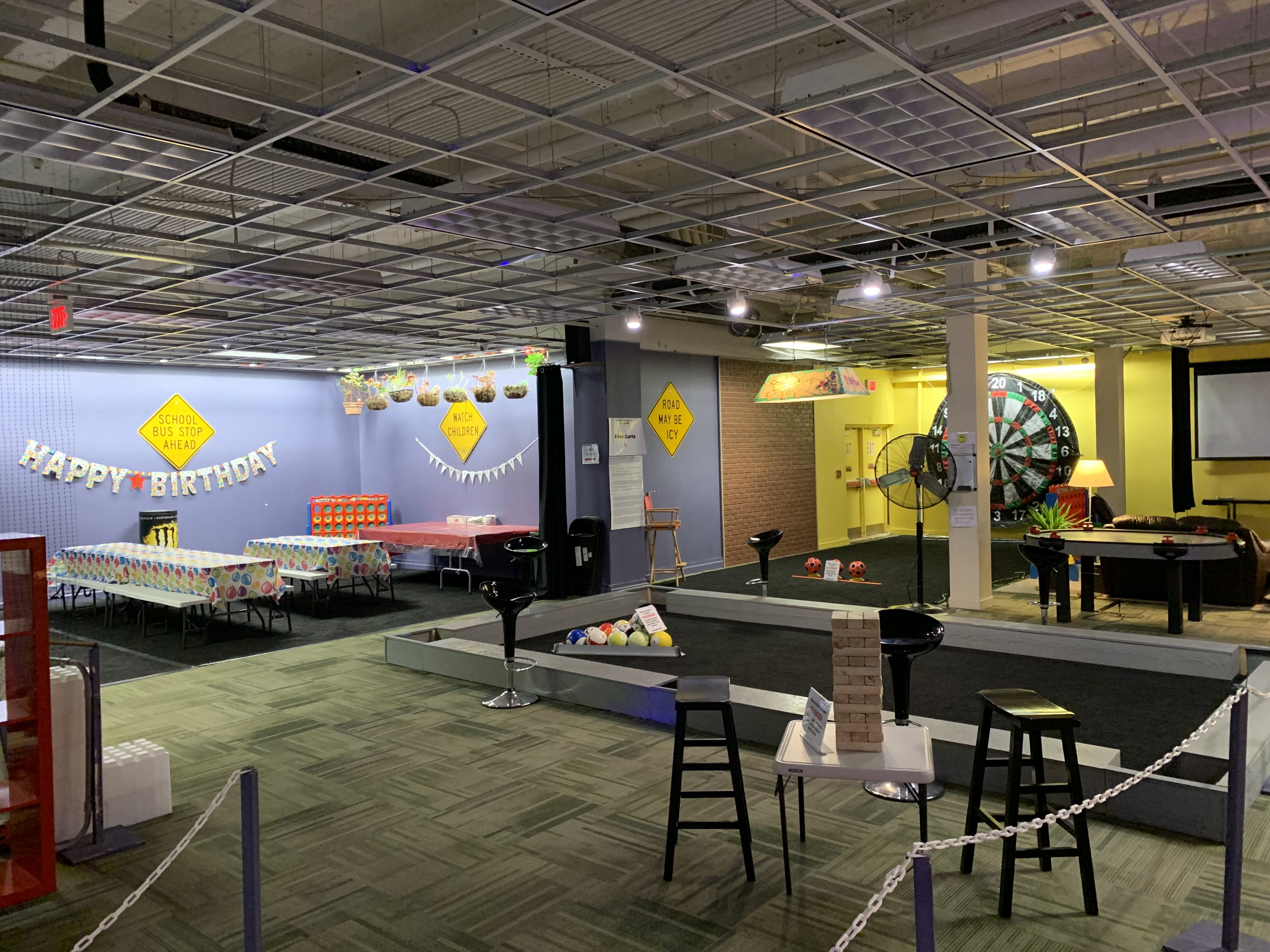 Sports Sampler Package
This is our most frequently booked package and the activities are as funny to watch as they are to play! The Sports Sampler features many unique games and activities for a broad range of ages, interests and skill levels. It is also recommended for groups larger than 16 as it provides a larger party area and many activities to keep everyone entertained if they have to wait a turn.

Package includes:

The following group activities led by your party coordinator:

-Human Foosball
-Knockerball
-Hungry Hungry Humans
-Dodgeball

-Party Coordinator to help with setup, clean-up and running the overall party
-Private Party Lounge with the following
*Soccer Darts
*Soccer Pool
*Pop-A-Shot Basketball
*6 Player Air Hockey
*Lounge area with lifesize games (Jenga, Connect-4, UNO, checkers)
Click To Reserve for only $1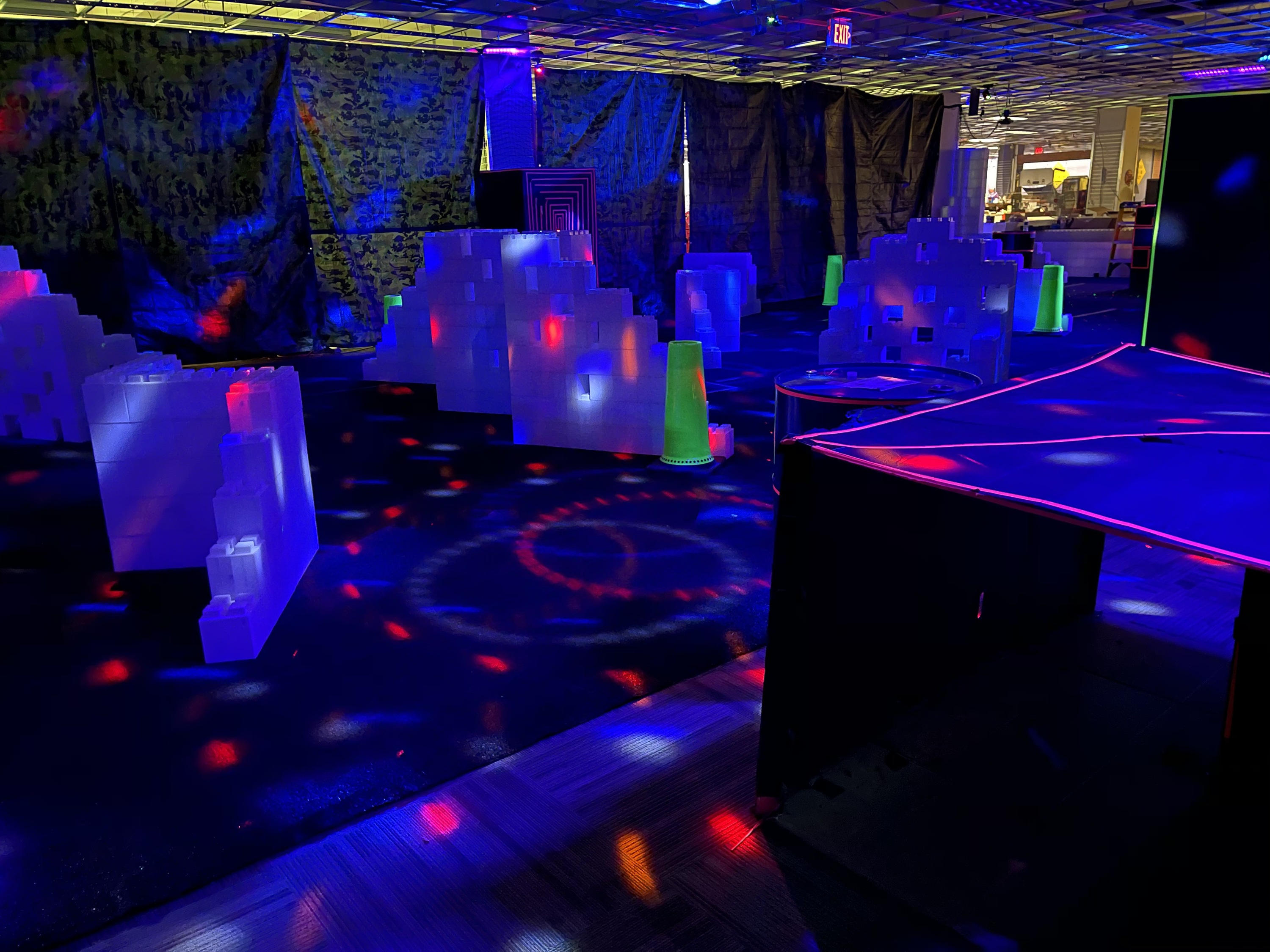 Laser Tag Sampler Package

This package includes Knockerball and Hungry Hungry Humans like the Sports Sampler, but instead of the other sports activities, you will have your own private Glow-in-the-Dark Battlefield reserved just for your group to play some private Laser Tag! Our newly updated battlefield and upgraded taggers are state of the art and make the player feel like they are in a video game, giving them their statsat the end so the kids can see who led the team to victory!

Package includes:

The following group activities led by your party coordinator:
-Laser Tag
-Knockerball
-Hungry Hungry Humans

-Party Coordinator to help with setup, clean-up and running the overall party
-9 Hole Mini Golf
-Lounge area with lifesize games (Jenga, Connect-4, UNO, checkers), Pop-A-Shot Basketball, 6 Player Air Hockey

**We typically recommend Laser Tag for younger kids that are 5-7 years old because the taggers are simple to use and they sometimes understand how to play easier than other activities
Click to Reserve for only $1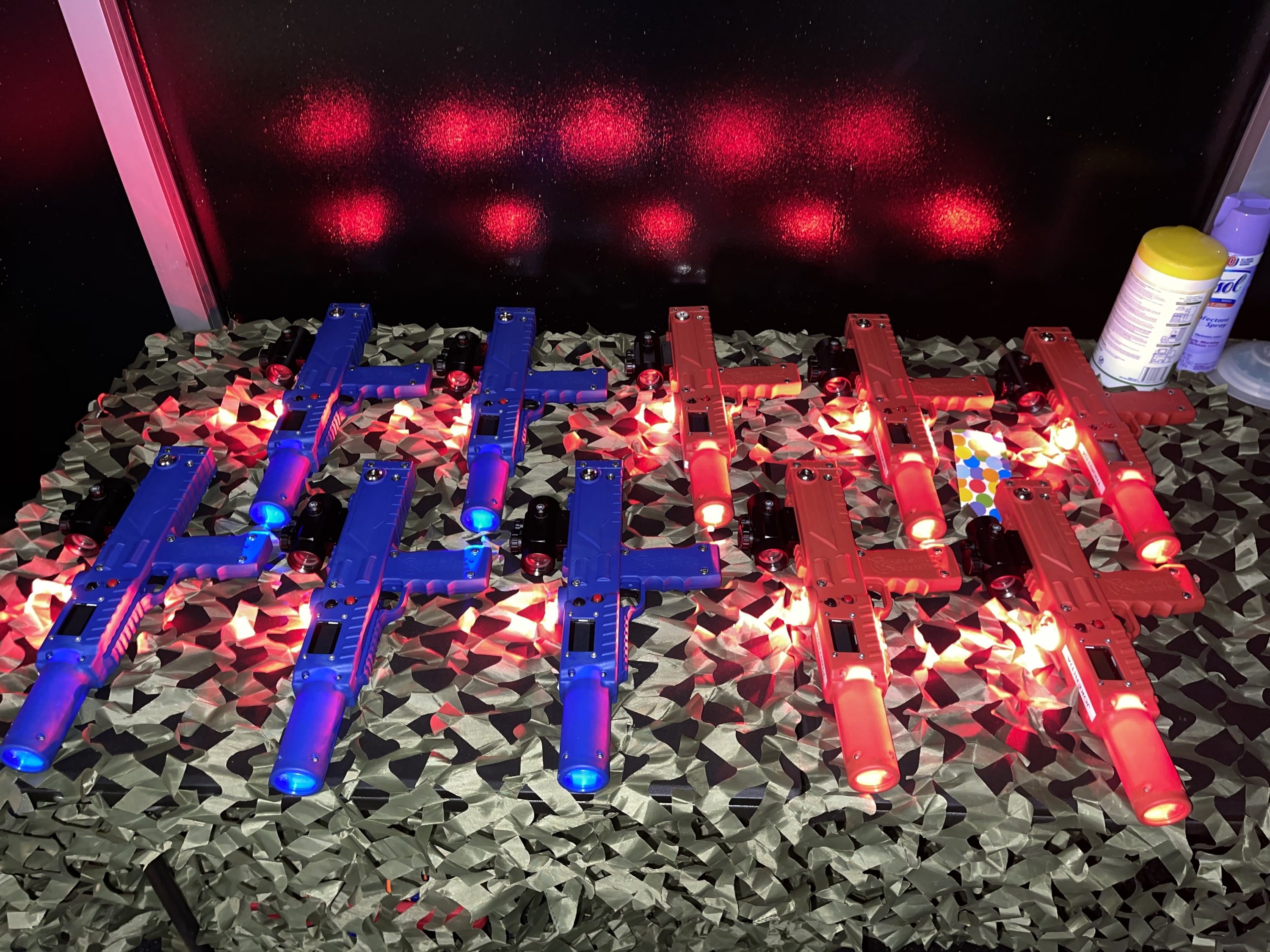 All Laser Tag Package

This package is for the gamer who wants to do nothing besides play Laser Tag. You will have your own private Glow-in-the-Dark Battlefield reserved just for your group to play private Laser Tag for one full hour! Our newly updated battlefield and upgraded taggers are state of the art and make the player feel like they are in a video game, giving them their stats at the end of each game so the kids can see who led the team to victory!

*Please note - There won't be any other activities included in this package besides Laser Tag so if you are looking for additional activities, choose the Laser Tag Sampler. We can shorten the Laser Tag time a bit to include Hungry Hungry Humans if you'd like the kids to try it before pizza/cake but that would be the only available change

Package includes:

The following group activities led by your party coordinator:
-Laser Tag

-Personal Party Hosts to help organize, guide and run the party
-9 Hole Mini Golf
-Lounge area with lifesize games (Jenga, Connect-4, UNO, checkers) and 6 Player Air Hockey

**We typically recommend Laser Tag for younger kids that are 5-7 years old because the taggers are simple to use and they sometimes understand how to play easier than other activities
Click to Reserve for only $1